Welcome to Richfield, New York!
Description on Wikipedia https://en.wikipedia.org/wiki/Richfield,_New_York
Statistics http://www.city-data.com/city/Richfield-New-York.html
County website http://www.otsegocounty.com/ (including Board of Elections)
Outdoor activities http://www.dec.ny.gov/62.html
Local Internet Pages
Bakers Beach on Route 28

(far side of Canadarago Lake in this picture)

is featured on our Home page in the menu above.
Canadarago Lake Improvement Assoc. Inc. https://www.facebook.com/canadaragolake/
Canadarago Snowtoppers https://www.facebook.com/canadarago.snowtoppers
The Richfield Springs Historic Association Museum is open on Main Street, facebook photos here.
Richfield Springs High School and Grade School District
Richfield Springs Community Center (Zone)-- at the corner of Walnut and Ann Streets
Richfield Springs Area Chamber of Commerce
The Village of Richfield Springs government -- at the Richfield Springs Library on US20 (Main Street)
Looking west on US 20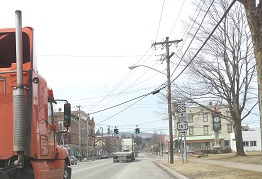 Richfiled Town Hall is on East James St:
From this central intersection with the Richfield clock, turn left (south on Lake St), just after the Vet's Club turn left on East James, and it will be down on the right. That's where the meetings are, and the Town and Village Court night. Also, you'll find the Town Clerk.
Regular hours are on Officials page.